Kiddies Rides & Attractions
We have a unique range of kiddie's rides and family attractions available for hire throughout Northern Ireland and further afield.  Our attractions are chosen for their individuality so your event can be guaranteed to stand out from the crowd!
Spinning Teacups Carousel
This is a brand new 2018 model with a state of the art intelligent LED lighting system.  The Spinning Teacups Carousel has 6 cups holding 4 persons per cup.  A high top circus tilt provides cover in the rain.
Dimensions: 20ft x 20ft
NEW Toyset Carousel
Circus themed novelty toy ride carousel with a range of fun characters, cars and carriages for Children to choose from.
Dimensions: 20ft x 20ft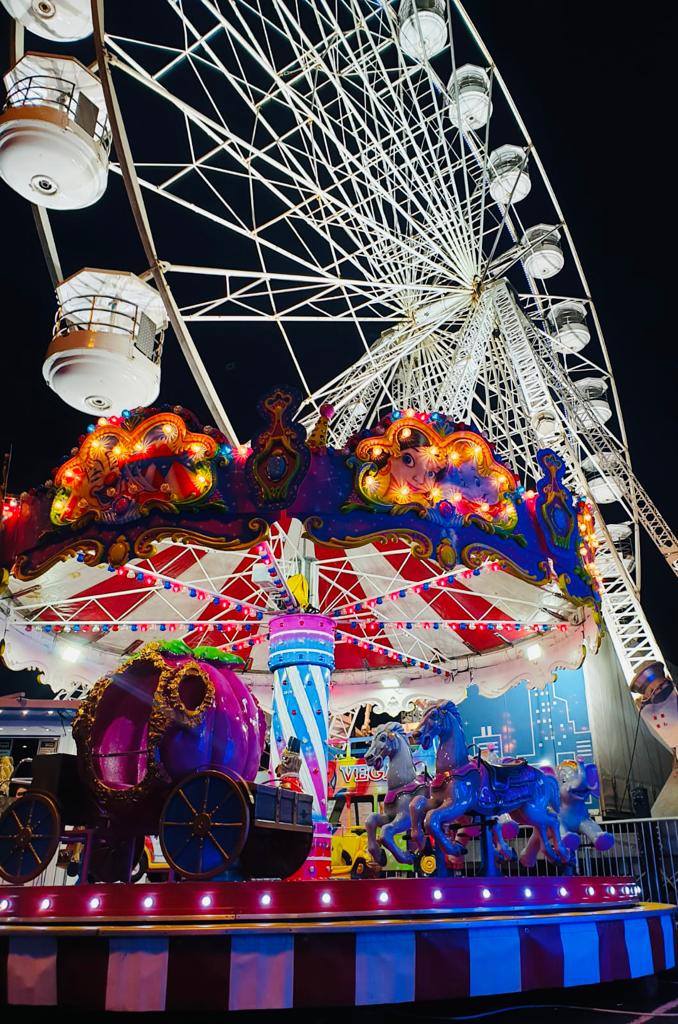 Safari Train Ride
The Kiddies Safari Train Ride is a great family attraction.  The Safari Train Ride is a safari themed electric train ride on tracks.  The track size can be adapted to suit different layouts.  This beautifully themed kiddie's ride can hold up to 14 riders at any time.  The Safari Train Ride is suitable for both outdoor and indoor use.  There are animal themed sound effects in each carriage.  Its bright colours, fun theming and sound effects make the safari train ride a real head turner.
Dimensions: 24ft x 14ft (can be adapted to suit)
Seats 14 children
Track can be built to specification from 16 foot x 14 foot to as big as 65 foot square
Complete with animal sound effects and bright colours, it's a real head turner
Jungle Adventure Crazy Fun House
The Jungle Adventure Crazy Fun House offers its visitors surprise, challenge and endless amusement.  Two floors of fun for all ages.  Visitors navigate hamster wheels, car washes, crazy bridges, stepping stones over the water pit, spinning disks, rolling walkways and of course the slippery slide.   This is a massively bright and colourful attraction suitable for all events.  This attraction is suitable for both adults and children.  This attraction has been manufactured in such a way that we can have it built up and ready for customers within 30 minutes of arriving on site.
Dimensions: 45ft x 16ft
Kentucky Derby Racer Side Stall
Our Kentucky Derby is one of a kind as the UK and Irelands only 8 player Kentucky Derby Game.  A huge hit in all the favourite family holiday destinations such as Blackpool, Alton Towers, Butlins, Warner Bros and Circus Circus Las Vegas this "anyone can play" game offers fun for the whole family.  The popularity of this competitive group game is timeless.
The catchy jingle is so additive you'll be singing it in you sleep!
So I hear you ask "how do you play?"  The rules are pretty simple
This game can operate with anything from 2 up to 8 players.
Each player is provided with 2 red balls.  Roll the balls and aim to get them in the coloured circles.
Yellow will move your horse 1 pace/ Blue 2 paces/ Red 3 paces
The balls will return so keep rolling them as accurately as you can.  Don't forget you are racing…first person to reach the end gets a prize!!!!
The Kentucky Derby Racer is a very versatile piece of equipment and has many uses –
Hire this attraction for your event
A great platform for corporate giveaways
Operates as a £1 a go side stall
A night at the races featuring The World Famous Kentucky Derby
Fundraising and corporate / team building events
Seasonal Theming – eg. Christmas theming featuring the Racing Reindeers
This attraction can be operated both outdoors and indoors.  It can also be taken out of the lorry and built into your venue.
Dimensions: 24ft x 12ft (operating from the lorry)
Kentucky Derby – Racing Reindeers
Kentucky Derby – Theming
Bungee Trampolines
Trailer mounted bungee trampolines.  Four beds each 8ft in diameter.
Dimensions: 24ft x 24ft