Bouncy Castles & Inflatable Games
We have a large range of Bouncy Castles, Slides and Inflatable games available for hire in Northern Ireland.  The hire of any Bouncy Castle or Inflatable Game includes –
Delivery/ Set Up
Uniformed Staff/ Supervision
Insurance, Risk Assessment & Test Certificate
Generators (all our generators are safety tested)
Bouncy Castles
All of our bouncy Castles are commercial grade and suitable for large scale Event hire.  Suitable for outdoor and indoor use –
Disney Themed Bouncy Castle                            Ice Kingdom Bouncy Castle                              Spiderman Bouncy Castle
Dimensions: 20ft x 20ft                                           Dimensions: 15ft x 15ft                                       Dimensions: 15ft x 15ft
 Mega Slide
Our Minions Themed Mega Slide measures 18ft to the platform.
Dimensions: 25ft x 12ft (18ft platform)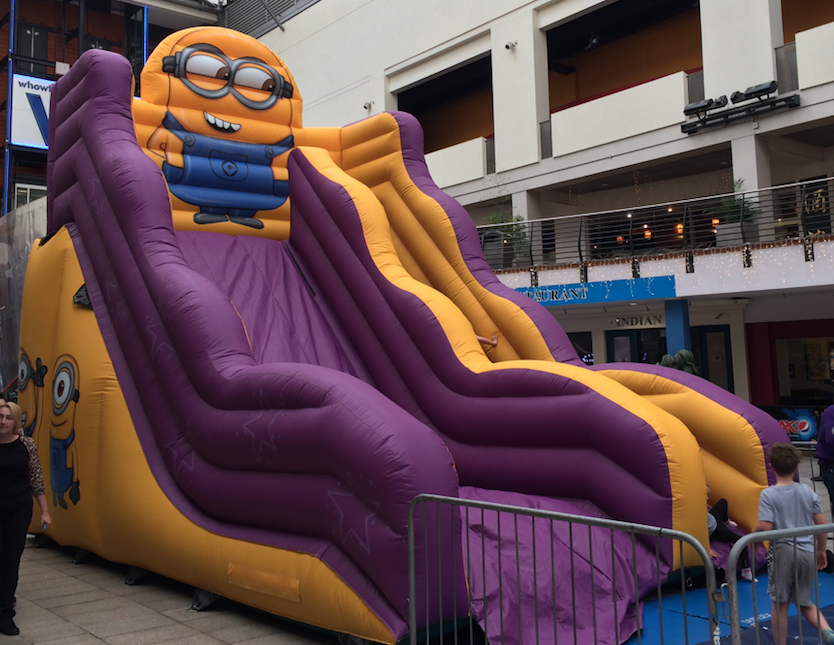 Helter Skelter Slide
Our new inflatable Helter Skelter Slide is a fantanstic new curved slide, designed to look like a traditional style helter skelter! Children climb up to the top before setting off on a curved slide to the bottom. 
Dimensions: 19ft x 19ft (10ft platform)

 NEW – Holey Moley
A seven player high adrenalin game where speed, skill and quick reflexes will ensure that one mole or two if in a team will take ALL of the balls and leave the other moles standing! Sounds easy? Of course not, as the hungry moles pop up to nab their balls, a human is in the centre wielding an inflatable hammer to whack them on the head and stop them being greedy! You have to be quick as the time is ticking on and the balls are depleting! The first mole to get the most balls wins!!
Dimensions: 16ft x 16ft
 Bootcamp Challenge Assault Course
One of Northern Ireland's biggest and most innovative obstacle courses.  The Bootcamp Challenge is a whopping 129ft long.  With its many obstacles and dual slides it offers a perfect combination of exertion and fun for both adults and children.  This unit is interchangeable and can therefore be hired in one 60ft section or as a complete course at 129ft.  Additionally a new "U" shape set up where the two parts are placed side by side, and 180 degree turn tube is added to the end enables organisers to have the full 129ft assault course without needing 129ft of space in a straight line. This new setup measures 65ft long by 30ft wide and will enable users to enter and exit the unit at the same end.
Dimensions: Full Course 129ft x 15ft or 65ft x 30ft         Half Course 60ft x 15ft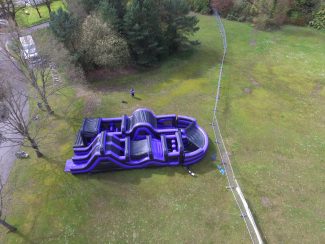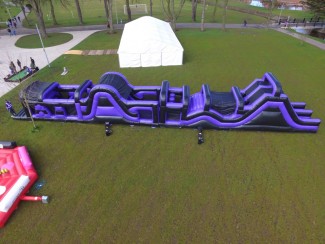 NEW Duck N Run
Two players race through the inflatable maze.  They must battle the obstacles whilst avoiding the rotating arms above them.  First player to complete the maze wins.
Dimensions: 30ft x 30ft
Last One Standing
An excellent competition game where 8 contestants can play at once.  The big yellow sweeper will rotate and you must jump over it to stay in the game.  Be ready when it speeds up, slows down or changes direction!  If you fall over "your out".   The winner is quite literally the LAST ONE STANDING.  Great fun for both players and spectators.
Dimensions: 30ft x 30ft
Wall 2 Wall Inflatable Football
Walled inflatable footballl arena, suitable for up to 5 A Side.
Dimensions: 50ft x 20ft.
Paw Patrol Play Zone
The Paw Patrol Play Zone is bursting with vibrant artwork, interactive inflatable play items, a slide as well as a good ball pool and bouncy area.  When children see the Paw Patrol tower, they immediately head for the play zone and once they make their way under Paw Patrol entrance they are in a little world of their own, playing with Ryder and the pups until their hearts are content.
Dimensions: 20ft x 14ft
3 in 1 Sports Unit
An excellent "Have A Go" game featuring Baseball, Basketball and Velcro Darts.
Dimensions: 15ft x 8ft
Foot Pool
A combination of football and traditional pool designed to combine the skills required for each game whilst being simple and fun for all ages and abilities.  The playing surface consists of a 15ft x 8ft platform with spots and stripes balls, a black ball and a white cue ball.
Dimensions: 15ft x 8ft