NEW FOR 2017…
2016 was our biggest and busiest year in our 11 years of business. We supplied equipment to over 300 individual events, including some Northern Ireland's biggest and most high profile such as Belfast's Continental Christmas Market, Enchanted Garden at Antrim Castle gardens, Belfast City Councils Monster Mash, Northern Ireland International Airshow, Armed Forces Day, Dalrida Festival, Belsonic and of course the great RUAS Balmoral show.
We continue to be a first choice for many of Northern Ireland's Companies corporate fun days including Coca Cola, Spar, PSNI, Abbey Insurance, Royal Mail, Clanmill Housing association to name but a few.
Below is a list of new equipment available for your events, alongside our already extensive list of first class attractions.
Jungle Adventure Fun House
Two floors of fun for all ages, as visitors navigate the hamster wheels, car washes, crazy bridges, stepping stones over the water pit, spinning disks, rolling walkways and the slippery slide. Massively bright and colourful attraction suitable for all events. This has been manufactured in such a way we can have it built and ready for customers within 30 minutes of arriving on site.
Duck N Run adventure maze
This inflatable is a bespoke design by ourselves and therefore will be only one available in the country for 2017 due to our design rights. Suitable for all ages, participants have to race round the maze while ducking under the spinning bar, first out wins. Two people race at a time but we can have a continual throughput of people every 7-8 secs making it a high turnaround item for busy events.
Toast Your Own Marshmallows
This took off in a huge way at the tail end of 2016. Due to client demand, we now have two bespoke setups for this family fun "experience". First of all we have our full "Continental" setup, which was custom designed for the Belfast Continental Christmas Market and is a 5m x 4m wooden chalet complete with the firepit for toasting. This can be combined with our dinky donuts which form the other half of this beautiful unit.
The other option we have tailored over the winter, is our mobile setup. This comes with the gas fire pit, safety fencing, choice of two backdrops (festive or generic marshmallows) two staff, and un-limited marshmallows for up to 4 hours. Our trained staff will either toast the marshmallows for the customer or supervise while they "Toast there Own" This has proved extremely popular at all events. It captures family's attention with this simple pastime and is a real novelty for kid's. It's also a mecca for social media snaps, as everybody takes pictures while toasting.
It's A Knockout
We have been asked for many years to provide the "it's a knockout" event. So 2017 see's the launch of the great 90's game show format, where teams take part in different competitions over a range of inflatables. NO water or foam will be used in our version as this CANNOT be insured, but great interactive inflatables, along with staff that really get involved and a MC with music system will create the perfect atmosphere for the competition to begin. We will use our 127ft Assault course, Last Man Standing, Duck n Run and Rodeo Bull and create a competition were teams will compete head to head over the inflatables. We will narrow teams down to semi-finals and finals through Knockout elimination. Medals and champagne will be presented to the winning team. Special midweek rates will be available on this event.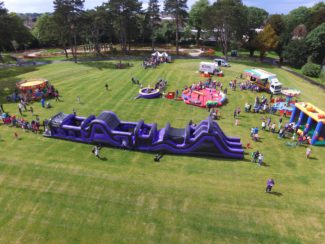 Boot Camp Challenge Assault Course
Last but not least we have had a unique "U" bend attachment made for our assault course making it possible to get the full 127ft of assault course into 60ft x 16ft of ground space. This assault course is the biggest in N.I (according to the insurance industry) and the only in the U.K with this bespoke attachment. Many churches and youth groups love the fact they can get this huge attraction inside many sports halls.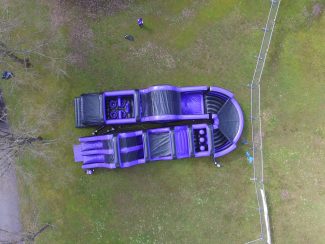 I hope you like our new attractions, and I look forward to answering any questions or enquiries you may have.  You can get in touch by email, phone or using the contact page on the website.
Don't forget all of our equipment comes fully staffed and insured to £10million PLI, has full independent risk assessments and test certs. All rides and attractions are also fully electrically tested. All generators used are diesel, and all staff our fully trained and Access N.I checked for your peace of mind.