NEW for 2015!!!
We have a range of new equipment for 2015 to add to our ever growing selection of unique pieces…
Inflatable Mini Golf
We are proud to introduce our completely new and unique Inflatable 9 Hole Mini Golf.  This is a portable 9 hole mini golf challenge which caters for adults and children alike.
Ice Kingdom Bouncy Castle
Following the recent trends we now have a frozen themed Ice Kingdom Bouncy Castle available for hire.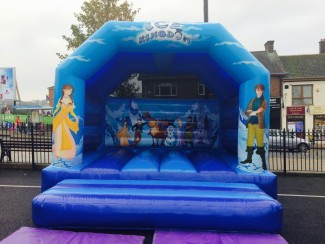 3 in  1 Sports Unit
Our new 3 in 1 Sports Unit offers "have a go" sports themed games featuring Baseball, Basketball and Velcro Darts.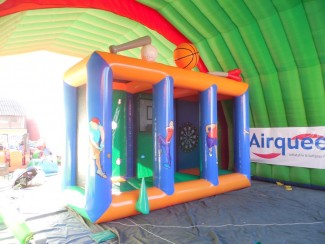 In addition to our new Inflatable Games we also have a range of event catering Speciality Foods on offer including –
Mini Dutch Pancakes
Mini Dutch Pancakes or Pancake Puffs (known as 'Poffertjes' in Dutch) are basically fluffy baby pancakes and are a favourite at the speciality food markets.
The Tower Grill
The Tower Grill concept is one of a swing grill, the unit built of solid oak is truly a spectacle to be admired with a total height of fifteen metres.
The Tower Grill centrepieces can be adopted to suit almost any event, as changeable characters are inserted for more specific venues e.g. Christmas to St. Patrick's Day to a Marine theme. The three upper decks and the top propeller rotate for additional effect. We believe the Tower Grill will be very popular as it can capture the character and charm of all festivals and events it attends, due to it being one of a kind.